1st grade math worksheets – Write the number name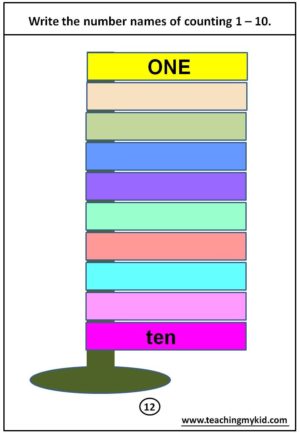 1st grade math worksheets – Write the number name – In this free printable worksheet kids will write the number names 1-10.
You can find lots of relevant math worksheets for kids on our website. Few worksheets help children recognize the numbers while others teach them maths. Children learn concepts better when they do it in more than one way. So teach them all topics in multiple ways as possible.
Here are lots of worksheets, which are made with very simple, neat and clean way, kids will easily read, understand and can solve the questions to write the correct answers in all worksheets. It will help them to increase their knowledge and math practice too. You can buy and download also many English and General Knowledge printable worksheets in our website.
Few name list of worksheets :-
In English :- These English practice worksheets are helpful for kids to write and learn the alphabets. In these sheets kids will recognize the picture and their sound.
In Fun Activities :- Here you can find more and more activity worksheets which are helpful for kids to increase their knowledge. They will learn the concepts through the games, puzzles etc.
In Math :- In math free printable worksheets, kids can do more practice of writing the numbers,what comes before and after, missing numbers etc.